The challenges of running a clinical trial during Covid-19
View from a Clinical Trials Manager by Dr Aisling Geraghty
Clinical Trials are multifaceted and even in "normal" circumstances managing research involves a lot of problem solving and dealing with challenges that arise. The effect of COVID-19 on clinical research has been immense. Restrictions and lockdowns, which varied hugely from country to country, meant that most clinical trials were either paused or delayed as in-person visits became impossible and hospitals were forced to change their systems. The Bump2Baby and Me trial was no different as procedures and recruitment methods needed to be adapted to fit into this new way of working.
How did it impact us?
As the Clinical Trials Manager, my role involves working with the four clinical site teams (in Dublin, Bristol, Granada, and Melbourne) to ensure the project is set up correctly and runs efficiently, while ensuring a high level of participant safety. Given the international nature of the project, online correspondence was always going to be a key part of our communication plan, however, the importance of regular virtual meetings and check-ins became very clear with the rapidly changing nature of the pandemic and country-specific responses. Restrictions and guidelines can change across hospital sites at very short notice which can impact ethical approvals, study visits and recruitment methods.
We have regular working group meetings (across time zones!) with all the sites together to discuss any issues and share expertise. A one-size-fits-all approach is not possible as different site adaptations have been needed due to local-level restrictions. This really highlighted the value of the local researchers who are able to provide perspectives into what is happening on the ground. We had to change how participants were recruited across the study which resulted in delays starting the trial for some sites. This has knock-on effects such as increased recruitment targets to avoid impacting project timelines. Despite COVID-19 now being around for over a year, constant monitoring of the situation is needed at each site to avoid any other delays to the project and to get us back on track.
What have we learned?
In clinical research it is vital to be proactive, reactive, and adaptive. In Bump2Baby and Me we try to be as prepared as possible to pre-empt potential issues and then also to react appropriately if and when changes arise. Research is fast paced so being able to react quickly, especially to issues out of your control, and adapt to challenges ensures minimum disruption to the study. We tried out various technologies and methods to find the best fit for our teams, in terms of preferred communications with site teams and ways of tracking study progress with teams working remotely.
The importance of having a good team around you, particularly during a pandemic, cannot be stressed enough. Keeping team members (and yourself) motivated and energised is difficult when everyone is remote, so we always try to celebrate recruitment milestones, however small. We are very lucky to have dynamic and enthusiastic researchers on this trial who, despite the ever-changing circumstances, are all working towards a common goal and are very excited to see how the study progresses!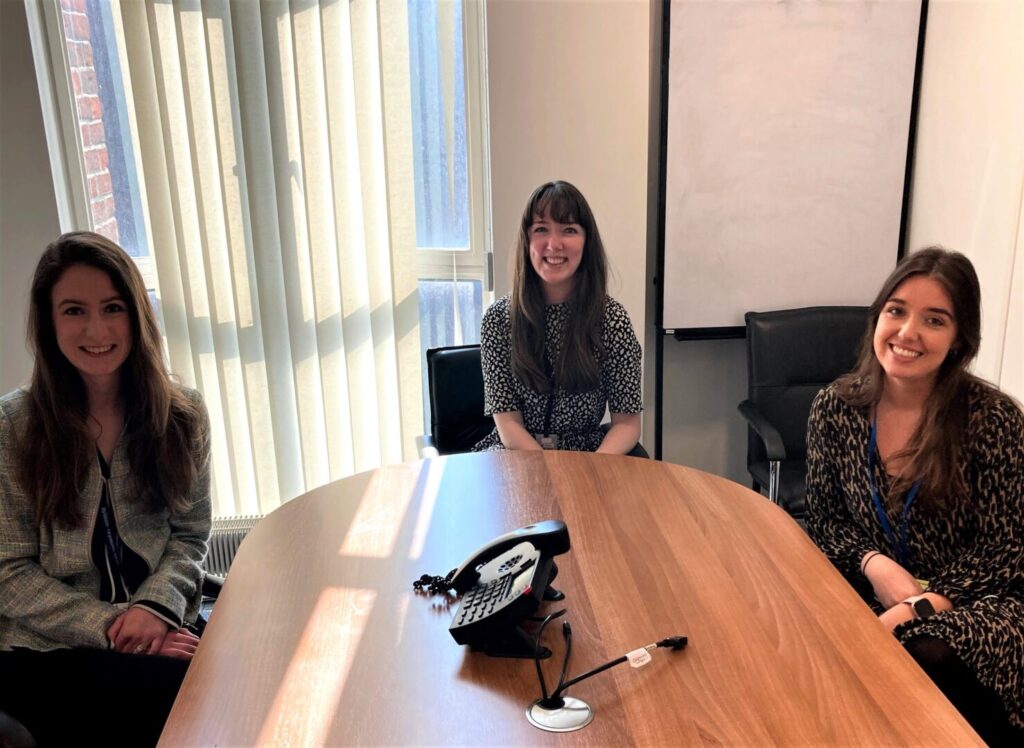 Dublin Clinical Team: from left to right, Research Midwife – Laura O'Toole, Clinical Trials Manager – Aisling Geraghty and Research Assistant – Shauna Carrigan.