Understanding Gestational Diabetes: Risk factors, Screening and Clinical Practice
/
Online
We will be hosting our fourth online forum "Understanding Gestational Diabetes: Risk factors, Screening and Clinical Practice" on Wednesday 14th June 2023 at 08.00am BST (09.00am CEST, 17.00 AEST).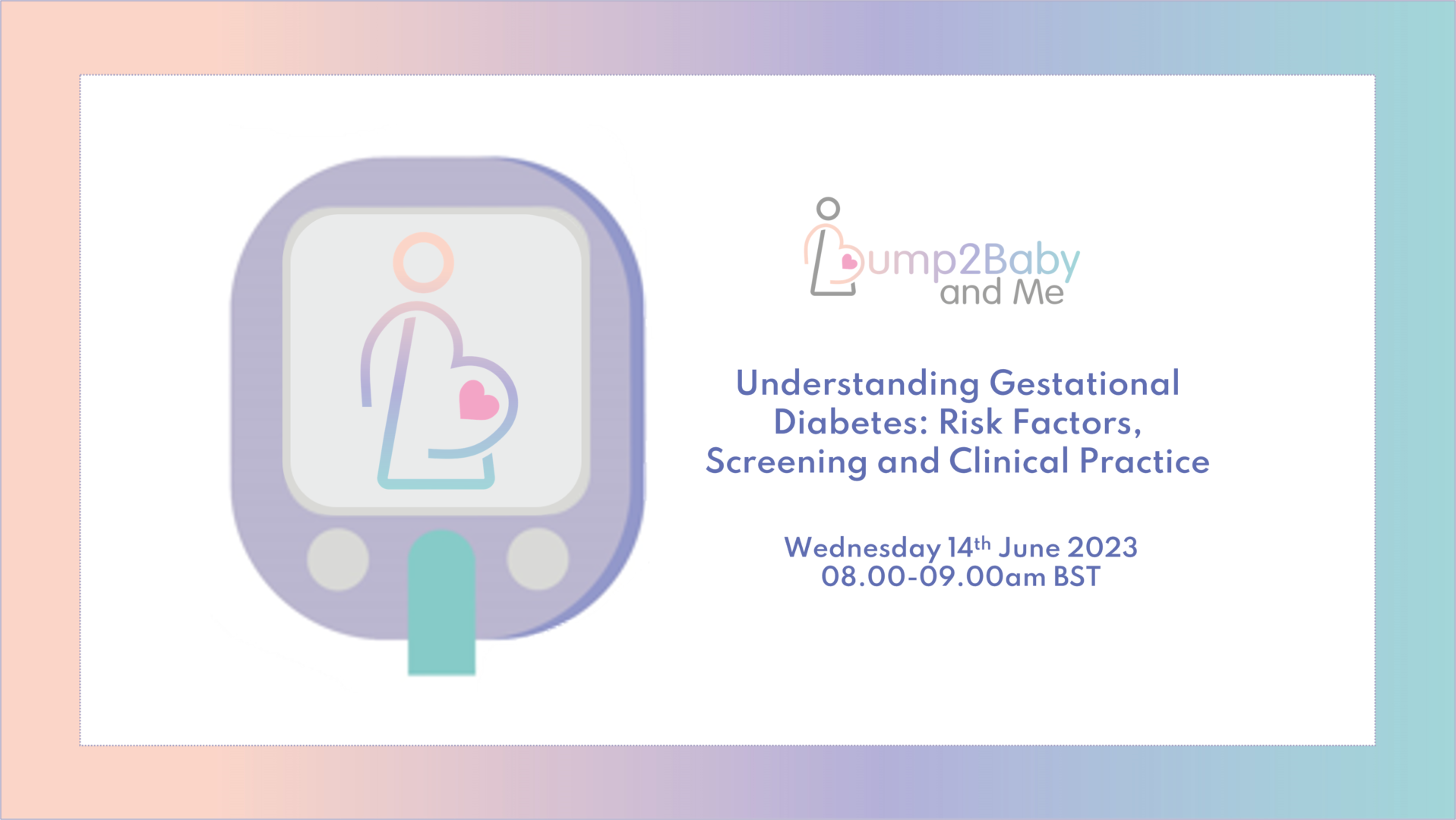 Gestational diabetes (GDM) is a growing burden worldwide. Affecting around one in eight pregnant women, its impact on healthcare services is significant. GDM has serious short-term and long-term public health implications for the life of the mothers and new-borns. The associated GDM risks are clear:
Pregnancy complications such as caesarean section, large-for-birth-age babies, special care nursery admissions are much more common in GDM.
Approximately half of women with a history of GDM develop type 2 diabetes.
Children born to mothers who had GDM are more likely to develop overweight or obesity and type 2 diabetes.
The Bump2Baby and Me project aims to develop and test a healthcare intervention to help prevent maternal and child diabetes, overweight and obesity and other non-communicable associated diseases.
This forum will feature short presentations from the Bump2Baby and Me project team, including Professor Sharleen O'Reilly, Dr Anna Davies and Maeve Youngman. Presentations include:
Factors which may increase the risk of developing GDM;
GDM policy in healthcare;
Preliminary results of a project survey to investigate current approaches for the identification and management of GDM;
Identifying women at risk of GDM in the Bump2Baby and Me trial.
These presentations will be followed by an informal discussion, facilitated by Beta Technology's Kate Wall.
The forum is open to all policymakers, healthcare decision makers, health service commissioners, and service users. It will provide the opportunity to network and engage with peers and to share knowledge and best practice, as well as ensuring effective, bi-directional dialogue between policy and health stakeholders and researchers.

About Bump2Baby and Me
Bump2Baby and Me is a five-year project with an innovative approach to help promote maternal and child health. The focus of the project is to undertake a randomised controlled trial to test a novel healthcare intervention during pregnancy and the first year after birth. The intervention includes risk screening for gestational diabetes and a health coaching programme.
The main objective of the project is to contribute to the early prevention of maternal and child diabetes, overweight and obesity and other non-communicable associated diseases, which include hypertension, cardiovascular diseases, metabolic syndrome, cognitive deficits, and behavioural issues.